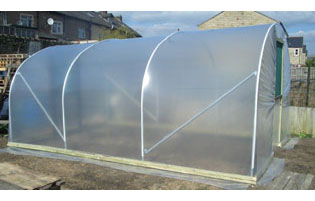 More and more people are taking steps to grow their own fruit and vegetables in their very own garden. Apart from the extra work to nurture and tend to your own produce, it is actually incredibly satisfying and helps to build a sustainable lifestyle.
Whether you're a seasoned gardener or don't know where to start, picking your plot and the best environment to grow your own plants is often a tricky decision. Many people opt for greenhouses but polytunnels are an increasingly popular alternative - here's why.
The polythene that creates the tunnel is actually specially manufactured to filter UV rays and allow enormous light diffusion and distribution over the plants and soil. The dome-like shape of the tunnel allows vegetation to receive essential sunlight throughout the tunnel no matter how big or small it is.
Not only does the technically advanced material create UV filtration and light distribution but it also retains heat. This means that plants are protected in adverse weather conditions, particularly in variable climates like the UK. The tunnels are designed to encourage and help plants and crops grow to the finest health and quality so that your skill and attention doesn't go to waste.
Did you know that a polytunnel will cost less than half of a greenhouse that's around the same size? With the wide variety of options in a polytunnel you could also get round four times the growing area when compared with a greenhouse. In this way, a polytunnel would suit different financial circumstances and seems like a smarter option.
4. Flexibility and Versatility
Another advantage is that polytunnels can be moved and reconstructed in different areas of your garden if you decided to change plans. They come in a range of shapes, sizes and options depending on what you're looking for and can be used to grow a wide range of plants, foods and flowers and even exotic species too!
As you can see, polytunnels are definitely worth considering if you want to get those green thumbs to work and grow your very own produce or plants in your garden.