Whilst many peoples thoughts at this time of year are focused on Christmas and winter, it is a good time to give some consideration to choices of furniture for the garden for next year. With the dark wintery weather you may think i'm suggesting something strange but far from it.
There are often sales on in garden centres or DIY sheds to clear surplus stock in the run up to Christmas, if they have the design you like then it may be possible to obtain a good discount or get something extra included, and who doesn't like that!
But the benefit of sales aside, its also a good time to plan. Summer and Autumn have only recently finished, and one can think back to how they used the garden, patio and seating areas this last year. By doing this you can think about what you would actually use and get the most benefit from, without too much time having elapsed. The garden is also clear from summer distractions, bedding plants and deciduous plants have gone over meaning you can see the bones of the garden far more clearly.
A choice of furniture shouldn't be decided based on the colours in the garden just this year, you may have a different planting scheme next year. Or you may want to fit the scheme to the furniture. If you grow your own plants from seed then choosing furniture now gives you plenty of time to then grow plants that will fit your planned scheme with new furniture. You also have plenty of time to research the options and investigate different designs, styles and colours from the comfort of your own home using the internet.
So what are the main options?
Wooden furniture
Hard wood furniture has gained in popularity in recent years, with a wide range of styles, designs and prices to meet most peoples budgets. Wooden furniture should be regularly treated, either with a specialist wood oil or varnish from time to time to keep it at its best.
Traditional wooden garden set
Maintaining a wooden table
Keeping wooden furniture maintained helps keep the colours as well as prevent damage from weather.
Rattan and Rattan style
Rattan and rattan style furniture has seem something of a makeover, the old fashioned image of 1970s conservatory furniture has been confined to history, and modern rattan styles, often plastic based for increased weather protection is both attractive and long lasting.
The modern imitation rattan will weather well and need almost no maintenance other than an occasional wash down. As Rattan is so adaptable a wide range of styles exists, from traditional colonial styles to modern chairs with hard lines and comfortable padding,
Personally im a fan of the modern Rattan, low maintenance, hard wearing and coming in a range of colours it will suit most styles of gardens from ultra modern to traditional english gardens as well as exotic or jungle styles, and to be honest almost everything in between!

Plastic
Plastic furniture has had quite a makeover not just pub garden style chairs but a wide range of funky molded furniture also exists. Like modern rattan it needs almost no maintenance so if perfect for a modern and low maintenance garden.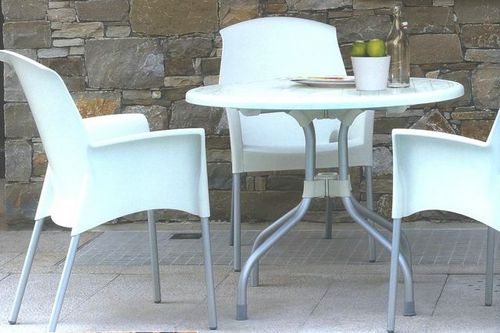 Stylish Plastic furniture
Whatever you choose enjoy the selection process!